Who communicates the most via chat before buying? Men or women?
by Andrea R.
---
published 10 February,2023
---
---
No, we do not mean conversations between buyers in the shopping aisle or in front of the grocery shelf, about whether a Slovak product is better, whether it is possible to get better quality washing powder abroad, or whether a particular toothpaste has a chamber certificate dentists. We don't want to go in that direction. If we consider that the virtual world of the Internet is similar, but more oriented 1:1 - one computer, one potential buyer, then it is natural that he needs to consult with someone before placing an order.
Many projects and entrepreneurs benefit from this fact on the Internet, who built their portfolios on comparing prices, presenting the popularity of goods or services, and evaluating quality.
The availability of this information on e-shops and websites is not common, and the quality of reviewers, respectively online comparisons, are debatable, especially on pages focused on the bazaar, demand for artisans, healthy food, weight loss, and the like, because anyone can be a reviewer, including yourself seller.
According to Google analysts on the pages we manage, it is clear that men spend more time on the Internet than women, but the % difference is minimal. Statistically, it works in favor of men. Of course, this data is strongly dependent on the content of the page.
If you think that despite the fact that men are more active on the Internet, women still lead in chatting on the site, because they have a stronger need for communication, we may surprise you, but the opposite is true. Men are also more active in this regard and demand more answers via online chat than women.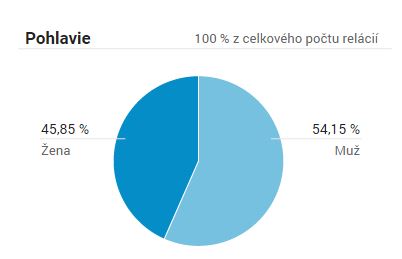 Analyzing and evaluating not only behavior but also demographic data about visitors to the pages we manage is a daily part of our practice. The following facts also emerge from it, which are very crucial when managing an online chat, and play an important role in deciding and choosing the operator who will take over the chat at a given moment. Managing an online chat to the satisfaction of the visitor means being a bit of a detective and a good friend at a distance.
What interests men?
- shipping price
- special features
- availability of spare parts
- discounts and bonuses
- terms and options for tracking the shipment
What interests women?
- possibility of returning goods
- speed of delivery and volume of packaging
- method of payment
- availability of goods in a different color, material or size design
Of course, even in this statistic, there is a deviation, when women clearly lead in inquiries via online chat, especially in the period before holidays, such as Valentine's Day and Easter. During the pre-Christmas shopping discounts, men are surprisingly more active from the point of view of the chat.
Perhaps it is due to the possibility of conveniently buying gifts from home with delivery to your door and an extended legal deadline for returning goods.
---
---